Art Won't Wait
by Gina L. Carroll
There were twelve, certainly no more than fifteen of us, in the audience. We came in rain boots and slickers. We left our umbrellas by the entrance and we tried to park our cars nearby. We parked as close to the door as possible because Hurricane Harvey was heading our way.  We came from all over Houston to one of the small theaters at the Midtown Arts and Theater Center, or MATCH, to see a collaboration with the Houston Museum of African American Culture, Lois Moses' Say He Had More Than a Dream.
By the time Harvey turned in our direction, the cast of More than a Dream had already traveled from Philadelphia to Houston and was deep into rehearsals. Tickets were already sold. The encore flowers already purchased. By Friday, opening night, Mayor Turner had already told everyone in the City to go home and stay. But Friday showtime, Hurricane Harvey was still hanging out in the Gulf. He was in no hurry. He would make landfall and meander along the Southeast Texas coast, exacting maximum damage there. Hurricanes can meander…
but art won't wait.
The Say He Had More Than a Dream cast carried on uninitiated to the way folks are supposed to behave when a hurricane is barreling down. So the lights went up at MATCH. They played their hearts out, this cast. Never mind that there were only 15 of us in the audience, that talented troupe made us forget about Harvey. For a moment, Dr. Martin Luther King, Jr. was in our ears. We were in his living room. We were on the phone with Coretta. And we were behind bars in jail. And then, we were in Memphis. We were inside of Dr. King's words and we were wrapped up in his intentions. For a moment, there was no impending hurricane. We were all in, surrounded by the blue light, the brilliance, and those beautiful words. Before the cast made their hurried dash to the airport, successfully escaping danger, they left us with something meaningful and enduring, something with which we could fortify ourselves.
This is why art matters. This is the reason art won't wait.
As everyone in the world knows, Harvey eventually did hit Houston hard. We lost too many of our homes and precious lives. We had to be rescued and we had to stack our ruined belongings by the curb. We are still tearing out damage. We are still sharing cars and apartments, waiting on FEMA checks and hoping our employers reopen for businesses. It's going to take a while– months, years. We are devastated, stressed, tired, worn out. We need to regain our peace and our place. And we are putting in the work for ourselves and each other. There's no doubt Houston will get its groove back.
And that is why art won't wait.
It can't wait until every house is repaired. It can't wait until there's money for everybody. In a City that has to heal, those who are hardest hit will likely need their culture most– their art, their music, their characters expressing all of the ways that make them uniquely them. Dr. Rheeda Walker, psychologist, researcher and expert on African-American mental health, has a profound perspective about the vital role culture plays in maintaining resiliency in the face of adversity. She says that in order to stay mentally and emotionally well, African American folks benefit greatly by staying in touch with their culture. In other words, in times of stress, when outside forces bear down to challenge our stability, tending to our cultural identities and connections are key to our well-being.
And this is why art won't wait.
Fortunately, Houstonians don't have to wait. We are lucky to have a community rich with culture. While many of our cultural institutions were hard hit by Harvey, suffering damage and closures, immediately adjusting their schedules and moving performances to other unaffected venues, other museums and cultural centers paused to dedicate themselves to gathering food, supplies and assistance to Harvey's dispossessed. Still, very quickly, the arts community has begun to return to its primary and vital purpose– to minister to the City's mental and emotional health with the salve that only art provides.
And we are ready– we are ready to be reminded of who we are through our painters, sculptors and musicians, our actors, historians and curators. We are ready to be transported, elevated and inspired by our cultural seers and purveyors.
Thank Heavens, art won't wait!  We, and by we, I mean the collective "We"– not just Houston, but Florida, Puerto Rico, The Virgin Islands, Mexico City and Las Vegas. We need art now more than ever.
FIVE CULTURAL MUST-DOs IN HOUSTON THIS FALL:
Sassy Mamas, The Ensemble Theater — Now through October 22nd…because a good laugh is just what the doctor ordered. This romantic comedy, known as The Cougar Phenomenon, is back by popular demand and promises to deliver.  

The Magnificent Faith Ringgold

, Houston Museum of African American Culture

,

now through October 22nd… because…

Faith Ringgold

! Don't take the inclusion of the word "magnificent" lightly.  It is apropos and well-deserved, and the exhibit is worth seeing more than once.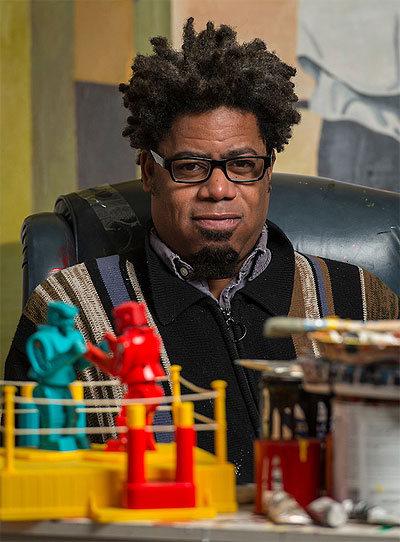 3. David McGee BONANZA— two Houston offerings because one can never get too much of David McGee…
First– Urban Dread & Complications of Water, Texas Gallery, now through October 21st.
Second– The Telling and the Told: The art of David McGee, HMAAC, November 4th through January 12, 2018.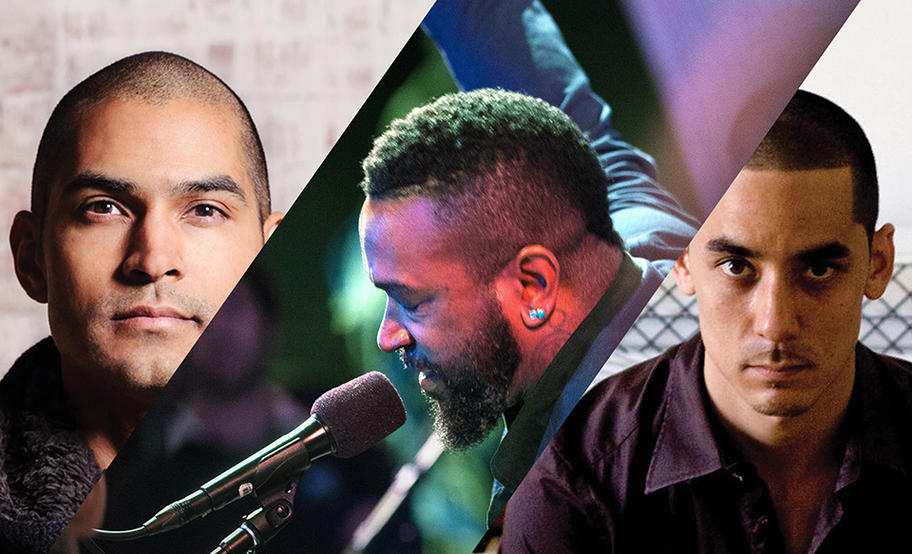 Aperio presents, Miyamoto is Black Enough, MATCH, 3400 Main Street 77002, Sat, October 14th, 8 pm

…because: "Maybe it's punk, or funk, or new poetry punk, or acid new music; but whatever it is, "(M)iyamoto is Black Enough is pulling audiences out of their seats with a combination of poems and complex musical compositions which together speak directly and forcefully to the issues of all our times, with driving and hypnotic beats." 
LAST BUT CERTAINLY NOT LEAST…
Black Art in America's Fine Art Show Houston, Buffalo Soldiers National Museum, October 27 -29th

,

because this is an opportunity to surround ourselves with awesome works by nationally-recognized and local artists' works; an opportune time to support artists impacted by recent events; and a chance to learn a bit about art collecting. And while we are on the subject of art, self-care and healing, part of the show includes,

Garden Art for the Soul

, which is a fusion of art and decor with gardening and wellness. BAIA is the perfect cultural feel-good, do-good event– free admission and open to the public. 
Gina L. Carroll
Inspired Wordsmith
ginacarroll.com
Author of A Story that Matters, available May 2nd, 2017
Gina Carroll Has Something to Say HERE
Twitter @MaDonnaNegra
Instagram @ginastories
Facebook @GinaLCarroll
Sr. Fellow, American Leadership Forum Class XXX
"You must have control of the authorship of your own destiny. The pen that writes your life story must be in your own hand." – Kassoria